Greetings, Friends!
We are pleased to present another article of our Forex/CFD industry Employers Review series. We want to emphasize that this series of articles is not a form of advertisement or paid promotion. Our approach is to gather information from open sources and provide an honest assessment of the pros and cons of each employer. Our ultimate goal is to create an unbiased and comprehensive database of interesting employer reviews in the Forex/CFD industry.
We primarily focus on reliable sources such as LinkedIn and Glassdoor, which contain a wealth of independent information. In cases where the company operates on other social networks, we also explore those platforms to gather more data.
Let's take a look at our Rabbit in a Hat:
IQ Option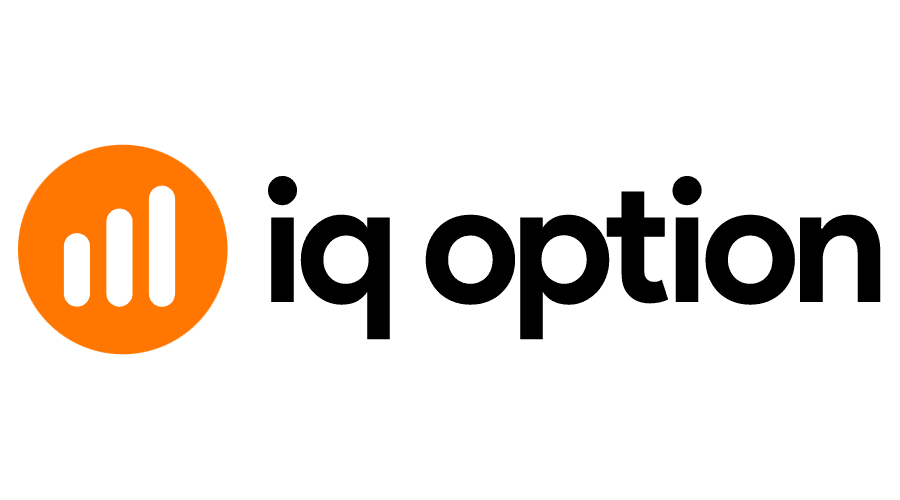 IQ Option is a Binary Options Broker that competes for talent in the Forex/CFD/Crypto industry. It is necessary to clarify that it is not just any other Forex/CFD/Crypto broker, but rather they have a similar HR structure and business model, which intersects in terms of personnel and career development.
IQ Option is a leading online trading platform that provides its users with access to a wide range of financial markets, including stocks, cryptocurrencies, and forex. The company's mission is to democratize access to the financial markets and to make trading accessible to everyone, regardless of their background or experience.

IQ Option was founded in 2013 and has since grown to become one of the leading online trading platforms in the world. The company has a global community of over 48 million registered users from more than 200 countries and territories. IQ Option's user base is diverse, with users ranging from experienced traders to beginners who are just starting to explore the world of finance.
At IQ Option, the company values innovation, creativity, and customer satisfaction. It is committed to providing its users with a user-friendly and intuitive platform that is designed to meet their needs and preferences. The company has won numerous awards for its innovative approach, including being named as the best mobile trading platform by the International Finance Awards.
IQ Option is also committed to investing in the development of its employees. The company offers a range of training and development opportunities to help its employees achieve their professional goals, and it provides them with a supportive and collaborative work environment. In addition, IQ Option offers a range of benefits to its employees, including health insurance, flexible working hours, and a generous vacation policy.
The company's headquarters are located in Limassol, Cyprus. In addition to its headquarters, IQ Option has offices in the United Kingdom, India, and Seychelles.
IQ Option's largest market is in Europe, where it has a strong presence in countries such as the United Kingdom, Germany, Italy, and Spain. The company also has a significant presence in Asia, with a growing user base in India, Indonesia, and Thailand. IQ Option has also expanded its operations to Latin America and Africa, with a growing number of users in Brazil, Mexico, and Nigeria.
LinkedIn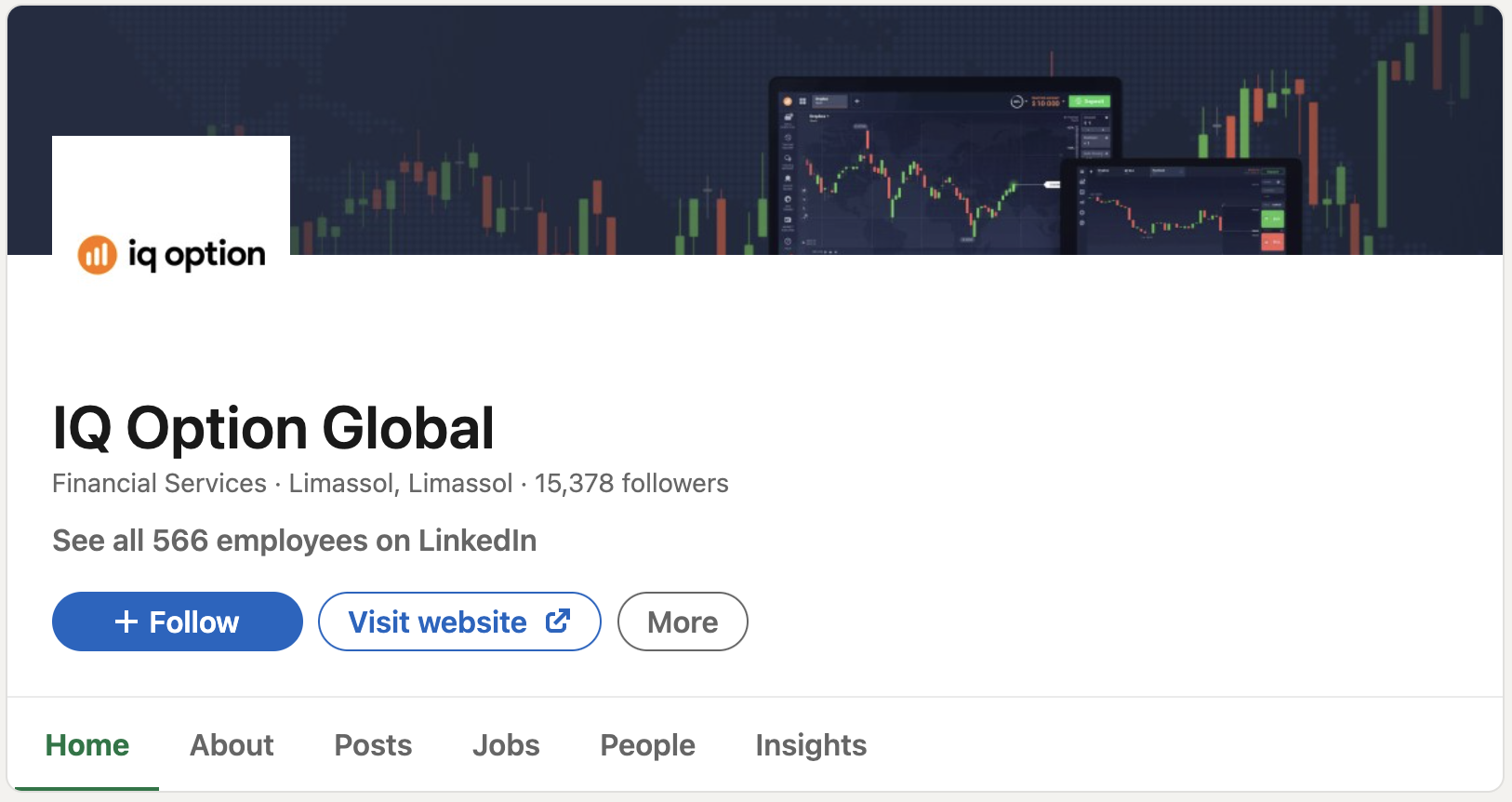 Company size 11-50 employees (566 on LinkedIn)
Headquarters Limassol, Cyprus
Upon analyzing the LinkedIn page of IQ Option, it is evident that the company has only published two posts on their page, with the last one being 10 months ago. This indicates that the company doesn't utilize LinkedIn as much as it should, which could be a drawback in terms of HR branding. A strong social media presence, including LinkedIn, can help companies establish their brand and attract potential employees. Therefore, it would be advisable for IQ Option to invest more time and effort in utilizing LinkedIn to promote its brand and showcase its company culture and opportunities.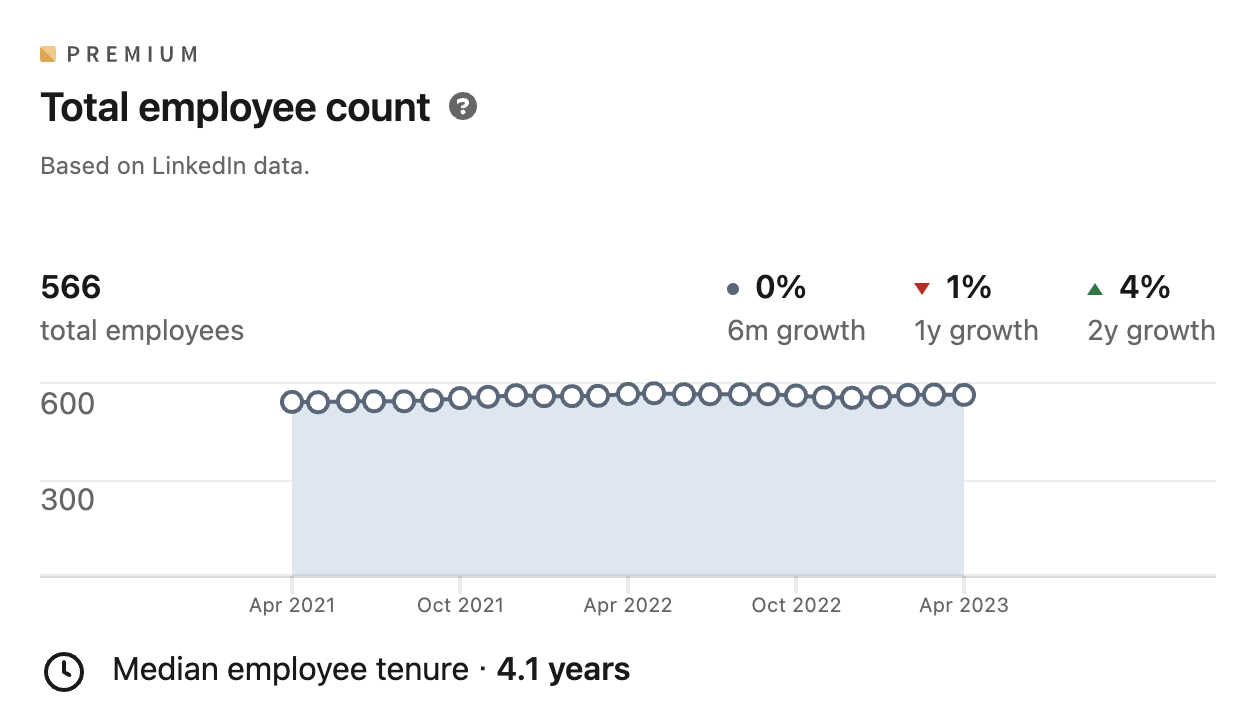 Looking at IQ Option's LinkedIn insights page, we can see a couple of metrics related to new hires, and the number of employees.
For example, we can see that over the past two years, the company has only grown its number of employees by 4 percent. The company does not have a high turnover rate and is able to retain its employees for long periods, indicating a positive work environment. On the other hand, it may limit the opportunities for individuals seeking employment.
Additionally, we can also see the average length of time an employee works at the company, which is currently more than years. It could mean that they are satisfied with their job and the company culture. They may have found their role challenging and fulfilling, and have had opportunities for career growth within the organization.
Glassdoor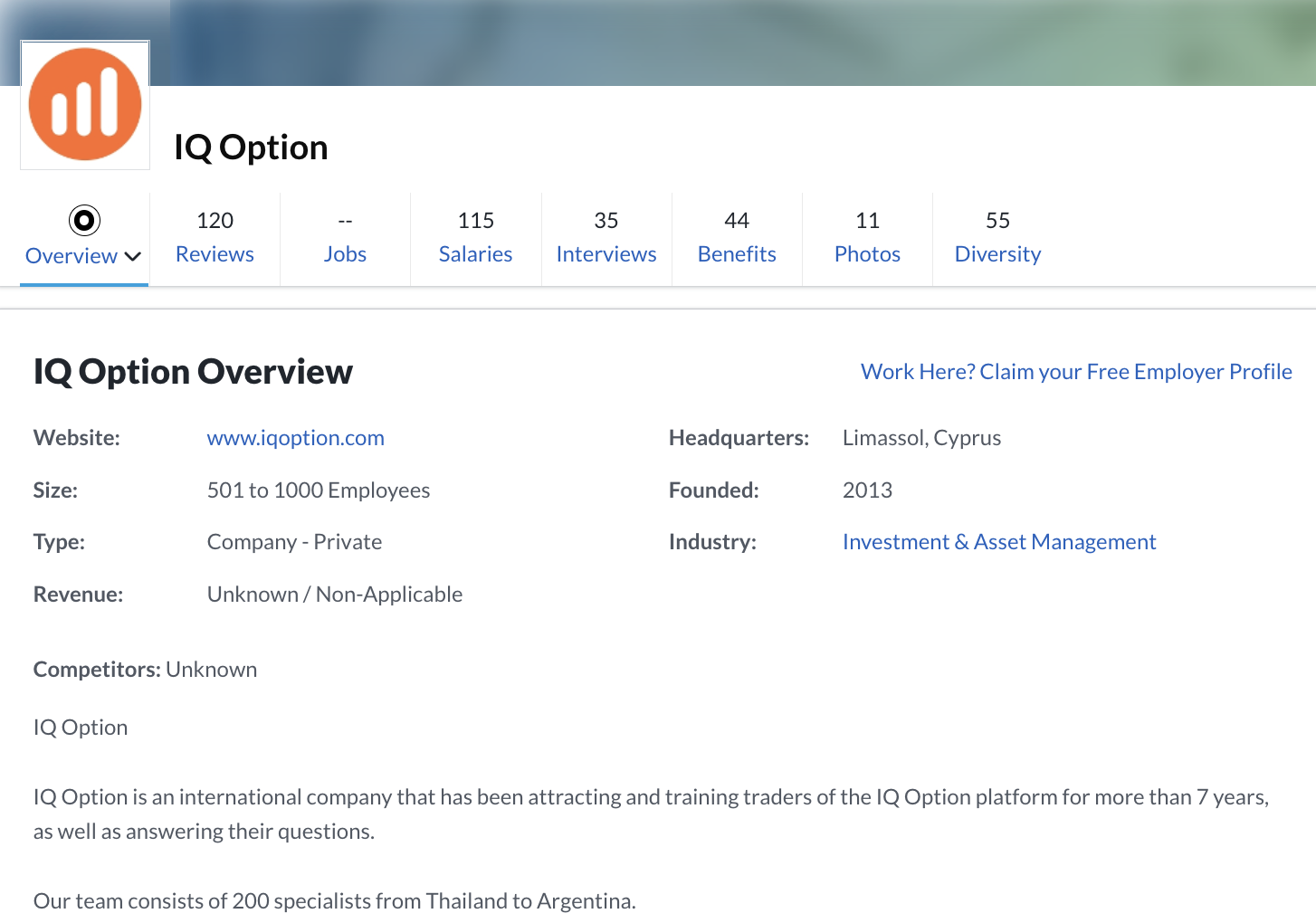 Number of reviews 120
Rating on the site 4,5/5,0
It's worth noting that IQ Option has received a significant number of reviews on Glassdoor, with a total of 120 opinions left by employees. The overall rating of the company is 4.5 out of 5, indicating overly positive feedback from employees about the company. In our reviews, this is the best assessment of the employer company to date.
Employees primarily evaluate the benefits and compensation offered by a company, as well as career opportunities. To a lesser extent, they also consider work-life balance, corporate culture, and top management when evaluating a potential employer.
Let's look at a couple of reviews about the company.


The reviews on Glassdoor for IQ Option are mixed. Some employees enjoy the company's culture, work-life balance, and flexibility, while others criticize the management style and lack of communication. Employees highlight the positive aspects of working for the company, including great benefits, opportunities for growth, and a supportive team. However, some reviewers mention long working hours, low salaries, and a lack of proper training. There are also criticisms of a toxic work environment and a lack of recognition for good work.
Employee reviews are always varied, and we consider both positive and negative feedback in our evaluations. The common thread in all the reviews is that shifts can be long and exhausting, but compensation is high due to the generous salary levels.
Our reviews focus solely on the employer, providing clear insights from current and former employees. Ultimately, the decision to work for the company is up to the individual.
Where to look for company vacancies?
There is no section with vacancies on the company's website. They are also not on Linkedin. Nevertheless, our specialists see the company's vacancies on local job search sites.
*You can write to us by email jk@finwizard.org so that we can strengthen your resume, introduce you to the employer and prepare for the job interview.
By Ekaterina Ovechkina