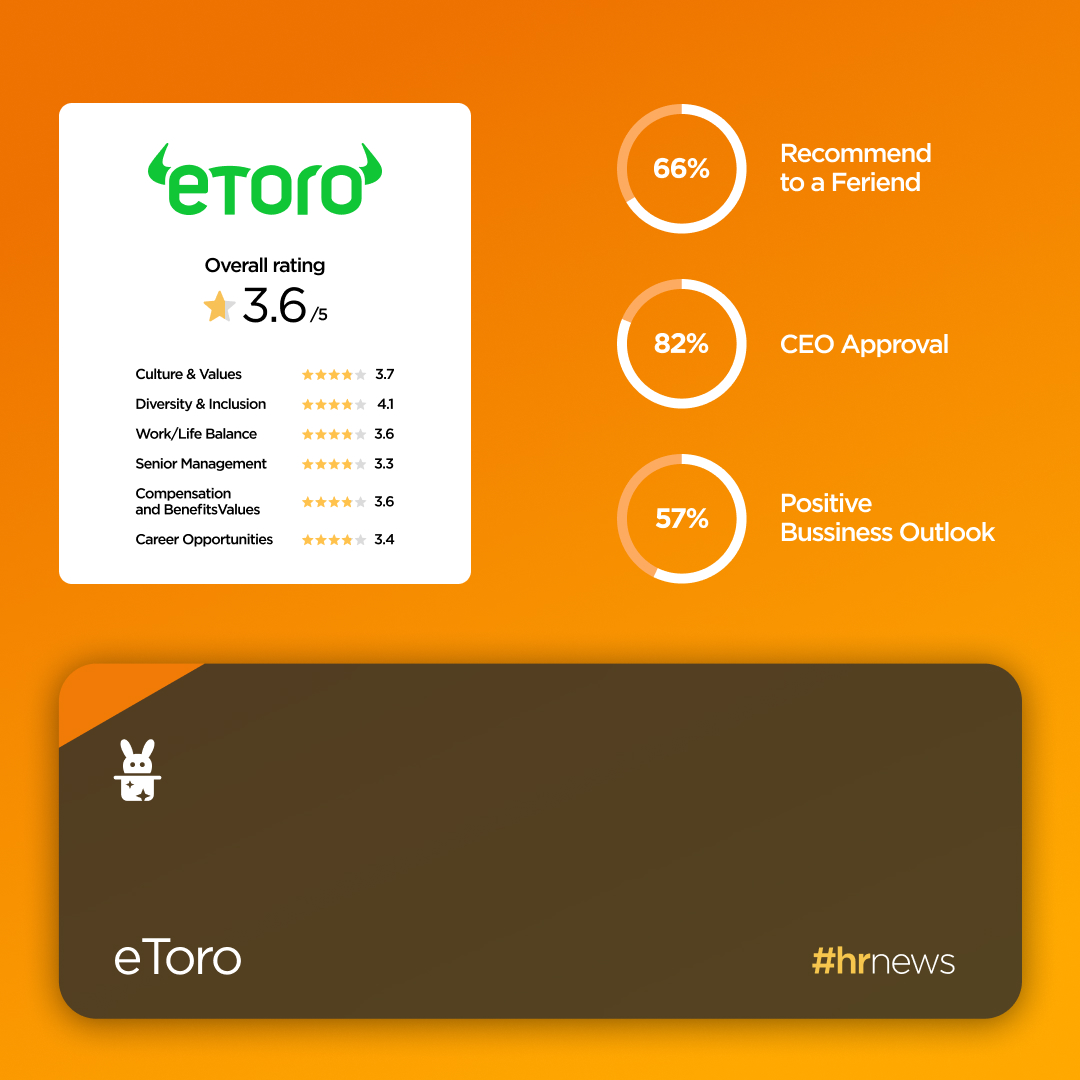 Greetings, Friends!
We are pleased to present another article of our Forex/CFD industry Employers Review series. We want to emphasize that this series of articles is not a form of advertisement or paid promotion. Our approach is to gather information from open sources and provide an honest assessment of the pros and cons of each employer. Our ultimate goal is to create an unbiased and comprehensive database of interesting employer reviews in the Forex/CFD industry.
We primarily focus on reliable sources such as LinkedIn and Glassdoor, which contain a wealth of independent information. In cases where the company operates on other social networks, we also explore those platforms to gather more data.
Let's take a look at our Rabbit in a Hat:
eToro

eToro is a leading social trading and investment platform that has established itself as a prominent player in the fintech industry. The company's mission is to democratize the financial markets by providing a user-friendly and accessible platform that enables people to invest and trade in a wide range of assets, including stocks, cryptocurrencies, and forex.
One of eToro's core values is innovation, and the company is constantly striving to develop new and better ways to serve its customers. Over the years, eToro has won numerous awards and accolades for its innovative approach, including being named as one of the World Economic Forum's Technology Pioneers.
eToro has committed to its mission of making trading and investing accessible to everyone. The company values transparency, integrity, and customer satisfaction, and it has built a loyal user base that appreciates its user-friendly platform and wide range of assets.
Founded in 2007, eToro is now very proud that they have a global community of more than 20 million users who exchange investment strategies, connect and share thoughts about the market through their social feed.
eToro is a global company with a presence in multiple regions around the world. The company's headquarters are located in Israel, where it was founded in 2007. In addition to its headquarters, eToro has offices in the United Kingdom, Cyprus, Australia, and the United States.
eToro's largest market is Europe, where it has a strong presence in countries such as the United Kingdom, Germany, France, and Italy. The company has also established a significant presence in Australia and the United States, where it has been expanding its operations in recent years.
LinkedIn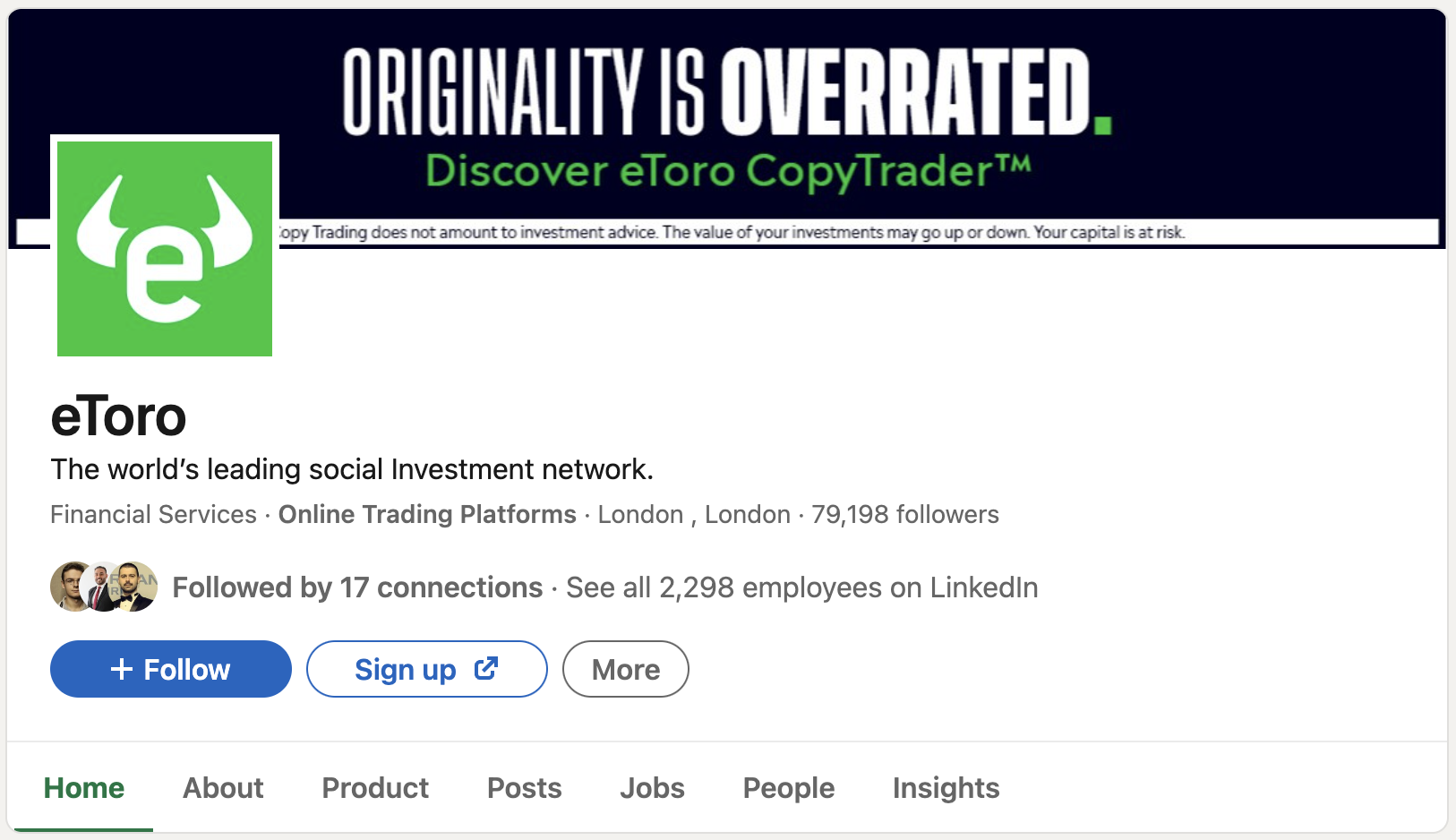 Website https://www.etoro.com/
Company size 1001-5000 employees (2,298 on LinkedIn)
Headquarters London, London
Founded 2007
Based on their LinkedIn page, eToro seems to be an active user of the platform. They have posted multiple updates each week since the page's creation, and they also have a considerable following of over 300,000 followers.
The main purpose of eToro's LinkedIn channel seems to be a combination of HR branding, thought leadership, and promoting their financial services. They use the platform to share industry insights, company news, and product updates with their followers. Additionally, they often post job openings, promoting their company culture and values to attract potential candidates. In terms of the format, they use a mix of text, images, and videos to engage their audience and promote their brand.
Overall, eToro seems to be using LinkedIn effectively to promote its brand, connect with potential candidates, and share industry insights. Their page has a good mix of content that caters to their audience's interests, making it an effective channel for HR branding and marketing their services.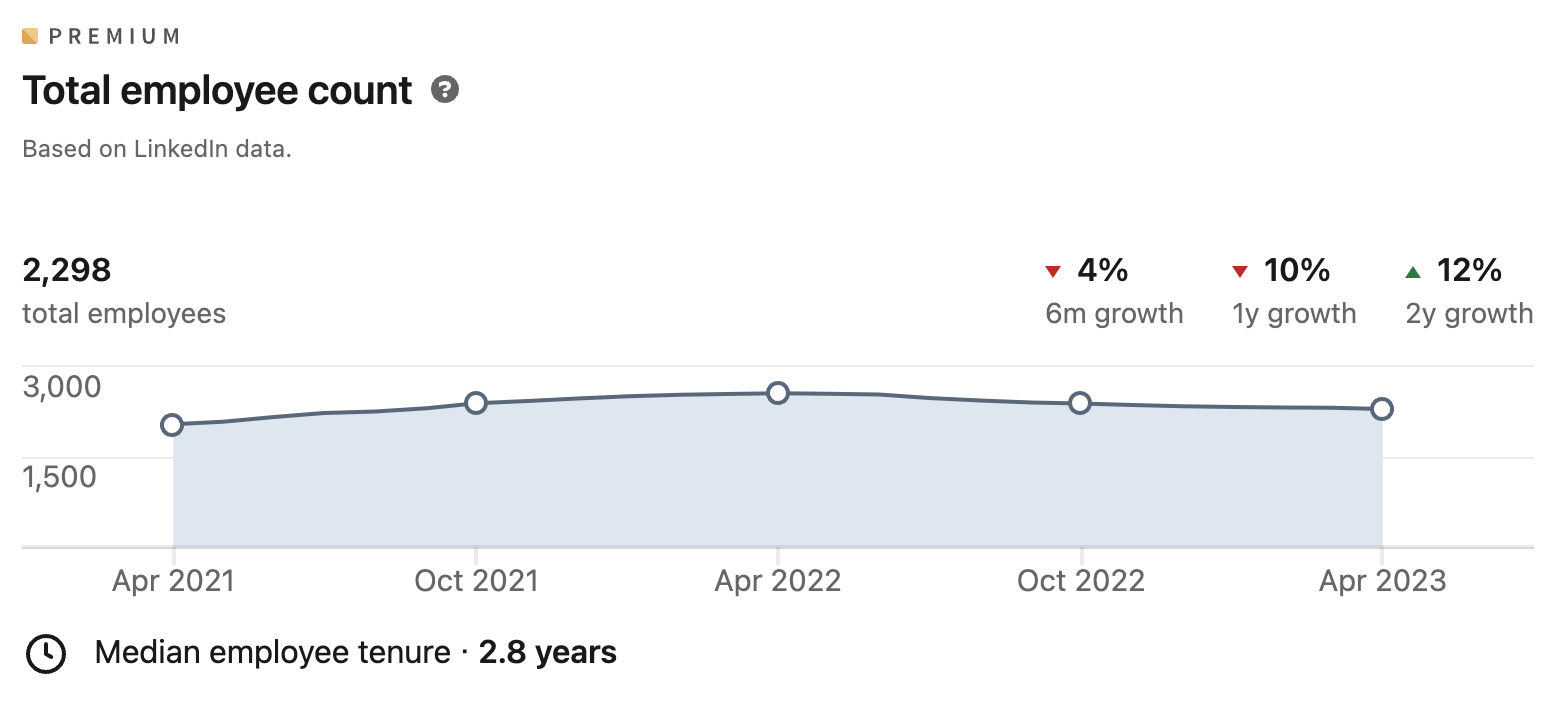 Looking at eToro's LinkedIn insights page, we can see various metrics related to open vacancies, new hires, and the number of employees.
For example, we can see that over the past two years, the company has only grown its number of employees by 10 percent. This may indicate that the company is currently in a period of stabilization and not experiencing rapid growth. This could be a positive sign for potential candidates who value stability and are looking for an experienced employer.
Additionally, we can also see the average length of time an employee works at the company, which is currently almost three years. This is a good amount of time for a motivated and skilled employee to gain experience and contribute value to the company, ultimately achieving results.
Overall, eToro's LinkedIn insights provide valuable information for potential candidates, including the company's stability and average employee tenure. The insights can also assist eToro in evaluating its recruitment efforts and creating a strong employer brand.
Glassdoor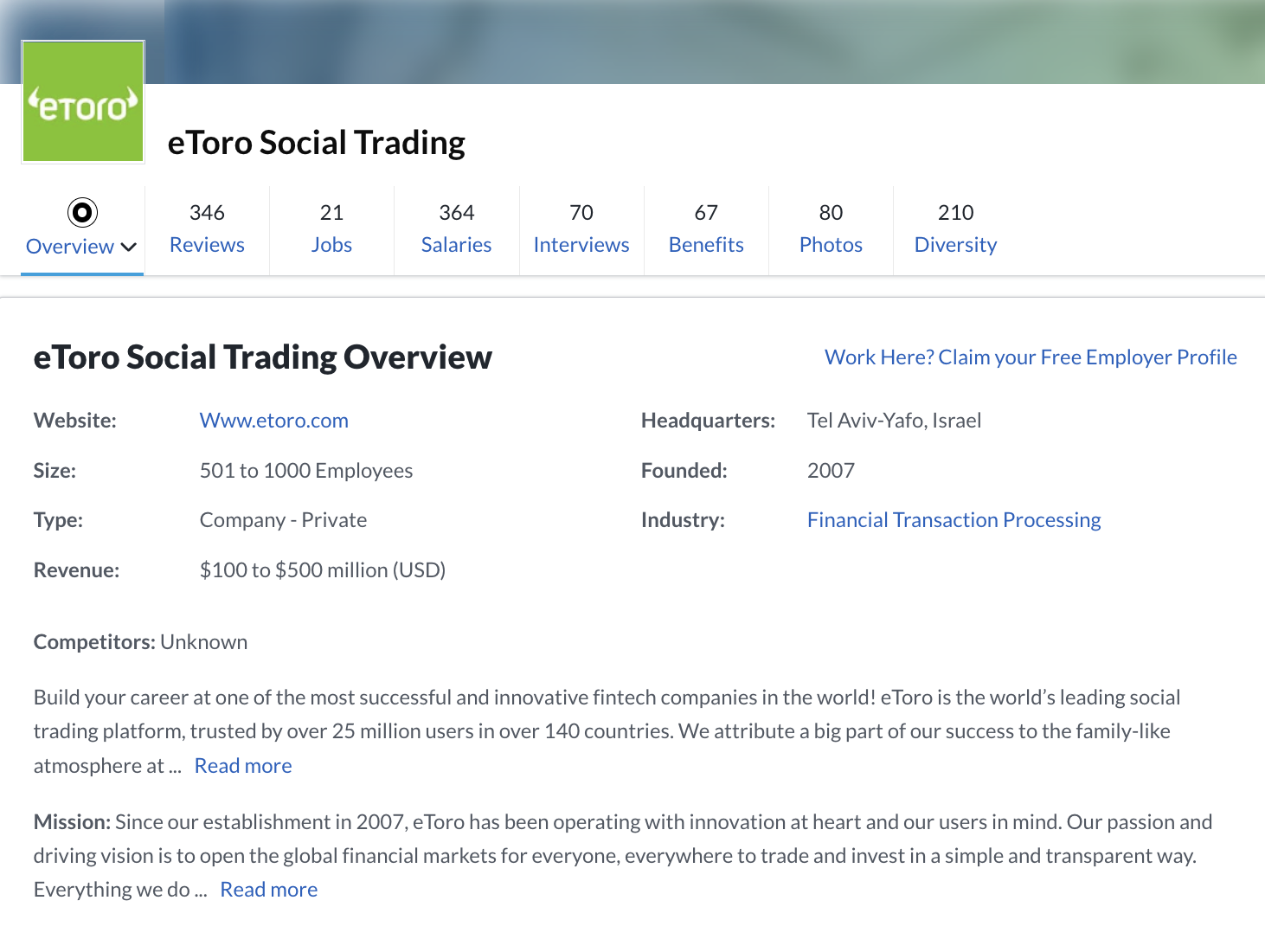 Number of reviews 346
Rating on the site 3,6/5,0
It's worth noting that eToro Social Trading has received a significant number of reviews on Glassdoor, with a total of 335 opinions left by employees. The overall rating of the company is 3.6 out of 5, indicating a generally positive sentiment among employees.
Among the reviews, 66% of employees have expressed that they would recommend eToro to their friends as a place to work, and 57% believe that the company's business prospects are positive. Additionally, according to an anonymous message posted on Glassdoor, employees have rated their salary and benefits at 3.6 out of 5 points.
Further, the Glassdoor reviews reveal that eToro is rated 3.6 out of 5 points for personal work-life balance, 3.7 points for culture and values, and 3.4 points for career opportunities.

The highest-ranked criterion for eToro on Glassdoor is Diversity & Inclusion, with a rating of 4.1 out of 5. This indicates that eToro places a high value on diversity and inclusion in their workforce, and is committed to providing equal opportunities for all employees. These ratings provide valuable insights for prospective candidates evaluating eToro as a potential employer.
Let's look at a couple of reviews about the company.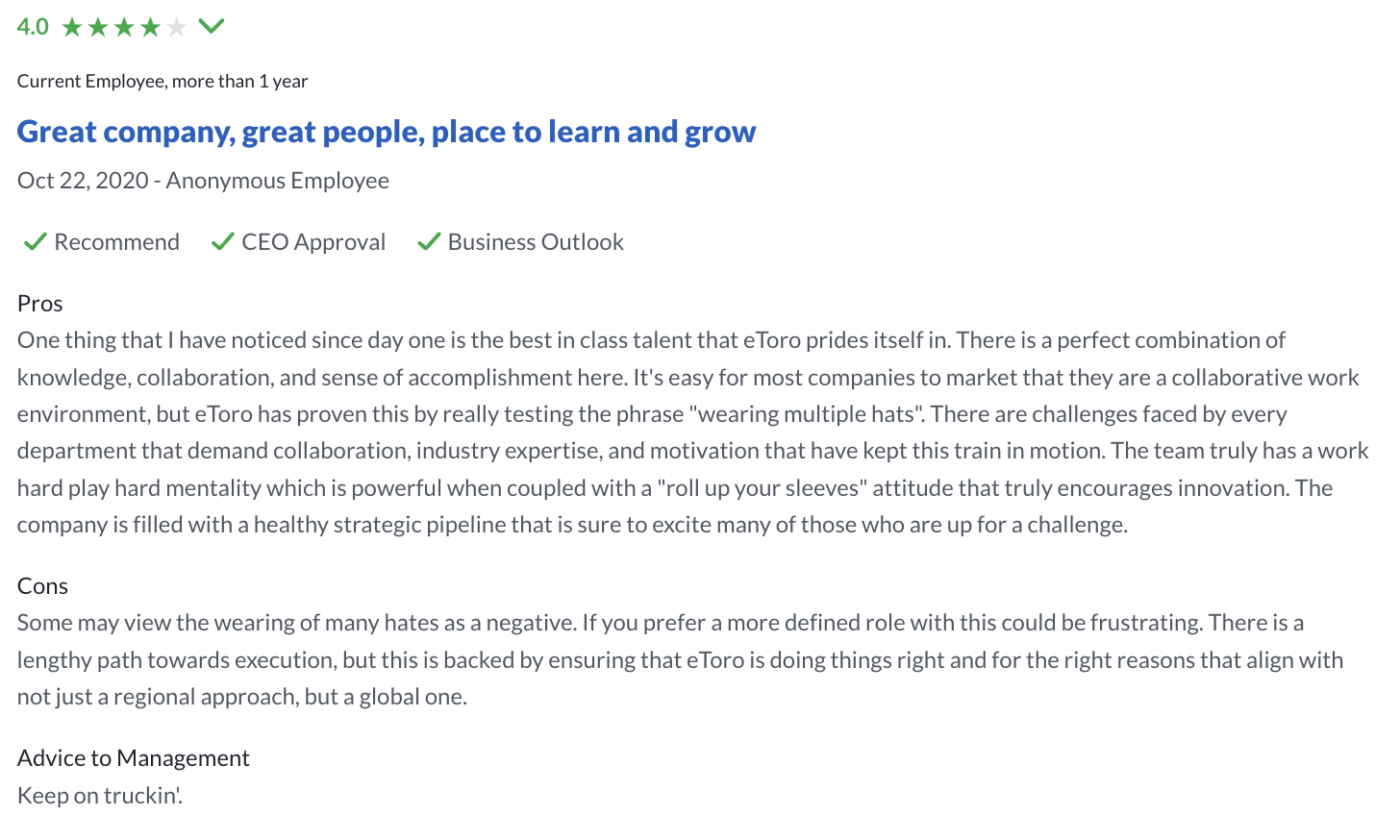 The reviewer praises eToro for having a talented and collaborative work environment that encourages innovation and has a "work hard, play hard" mentality. They also mention a healthy strategic pipeline for those who are up for a challenge. However, they note that some may find the "wearing of many hats" frustrating, and that the path towards execution can be lengthy. Overall, the reviewer advises management to continue their current approach.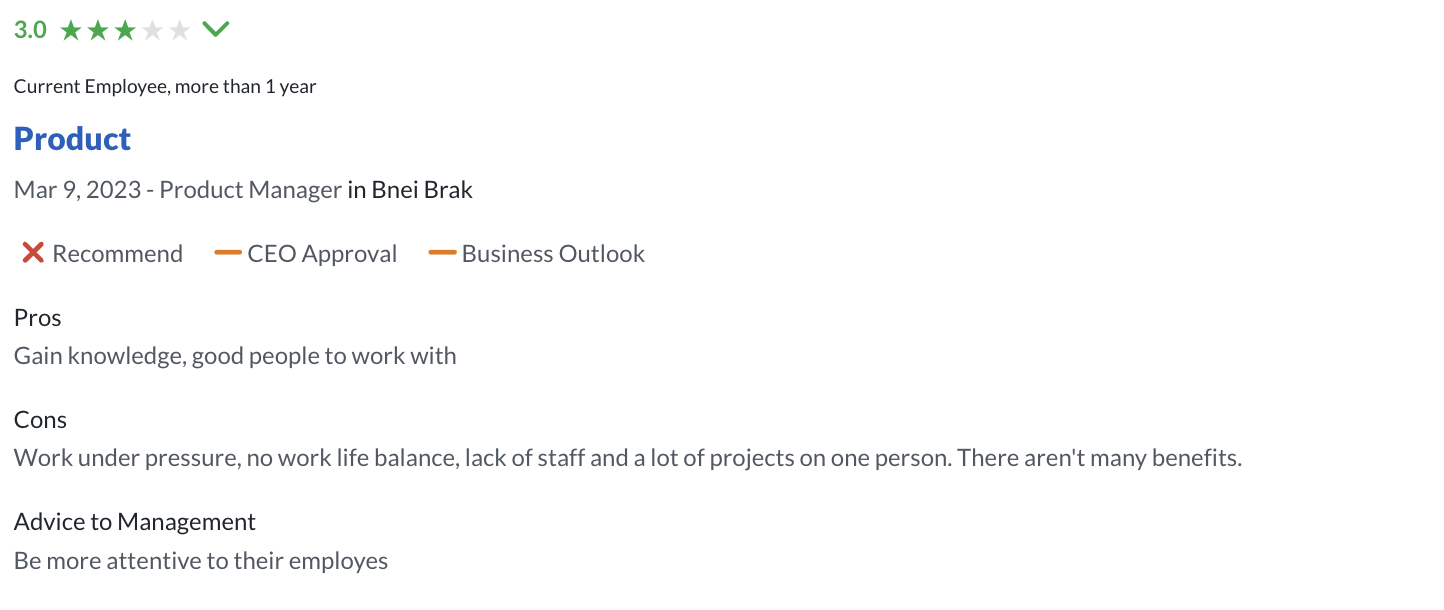 The reviewer mentions that eToro provides opportunities to gain knowledge and work with good people. However, they also note that there is a high-pressure work environment with no work-life balance, a lack of staff, and many projects assigned to one person. The reviewer advises management to be more attentive to their employees.
Based on a variety of reviews on Glassdoor, it appears that eToro has a collaborative and innovative work environment with a talented team. However, some reviewers mention a high-pressure work environment with long hours and no work-life balance, along with a lack of staff and benefits. On the positive side, the company values diversity and inclusion, and there are opportunities for career growth and learning. Overall, prospective employees should weigh the benefits and potential challenges before joining the company.
In general, we highly commend the company for its focus on employee development, allowing the flexibility to choose work locations, and providing an extensive list of benefits.
Where to look for company vacancies?
The company has a "Careers" section on the company's main website. There are more than 50 vacancies in different locations. Also, you can find vacancies on LinkedIn. The entire selection process is transparent and is well described on eToro's website.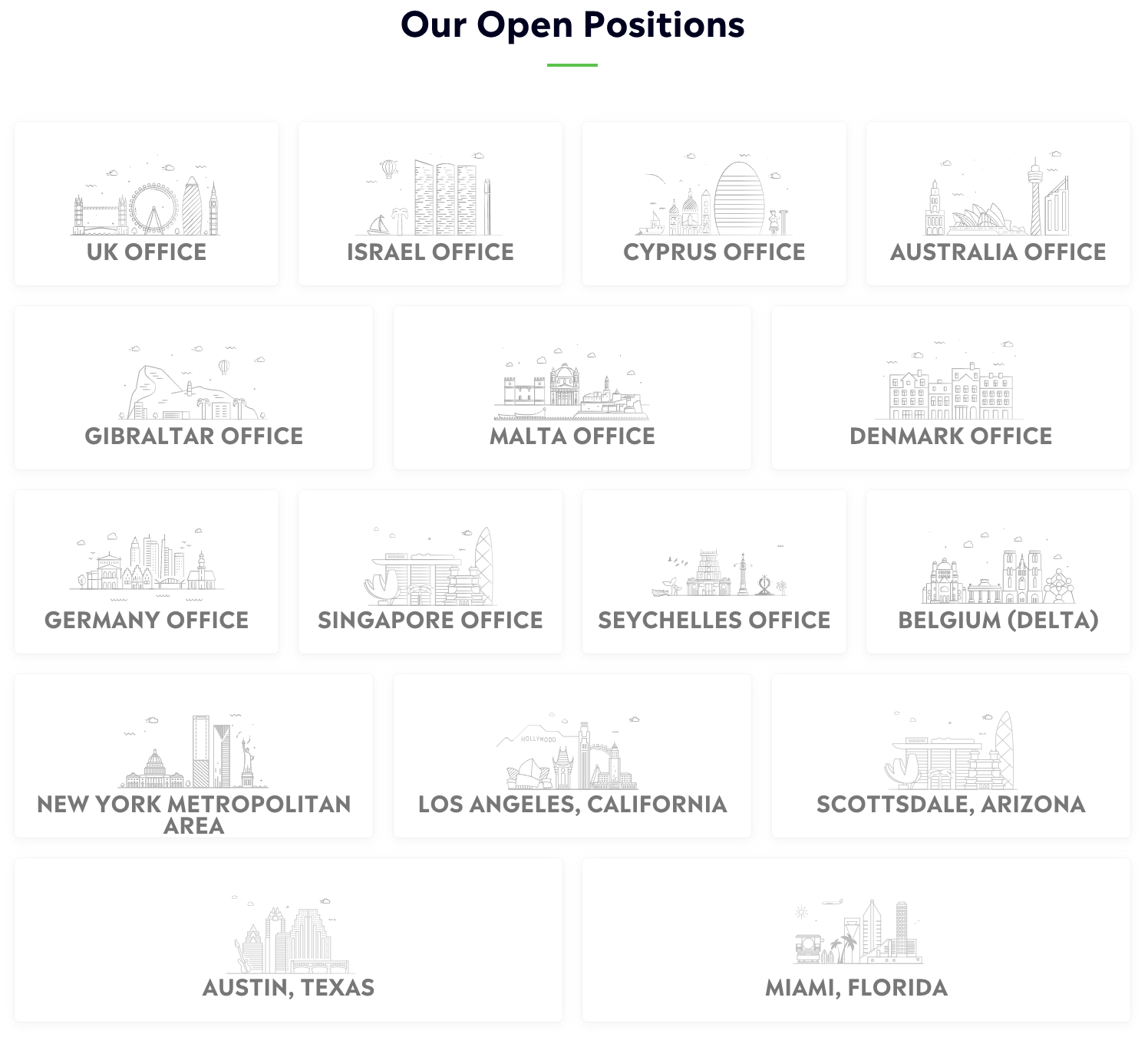 *you can write to us by email at jk@finwizard.org so that we can strengthen your resume, introduce you to the employer and prepare for the job interview.