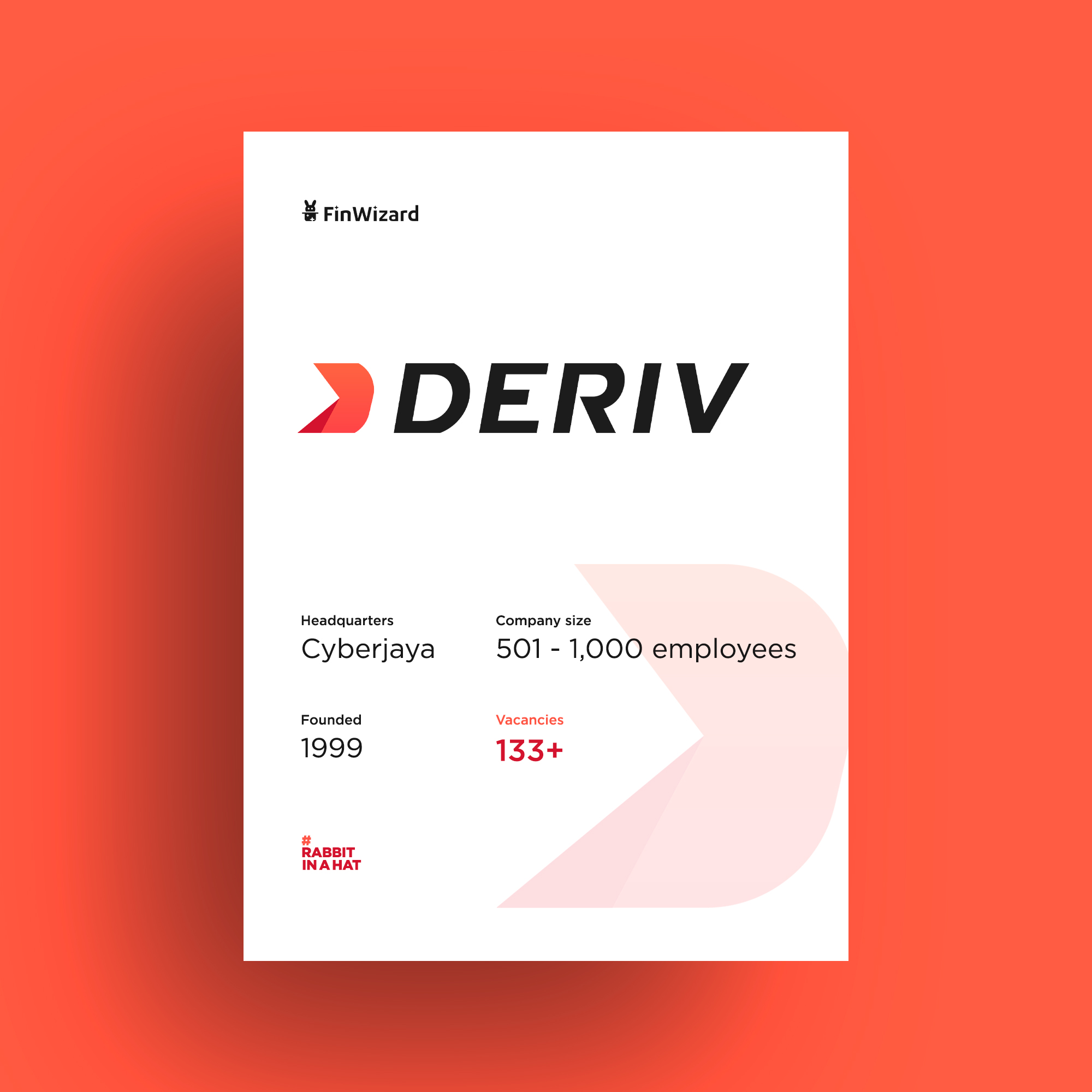 By Ekaterina Ovechkina
We continue a series of Forex/CFD industry Employers Review. We would like to remind you that this series of articles is not an advertisement or paid promotion. We take information from open sources, talk openly about the pros and cons. Our goal is to create an objective, complete database of interesting reviews of employers working in the Forex/CFD industry. We mainly focus on such sources as LinkedIn and Glassdoor, as they contain a large amount of independent information. If the company operates other social networks, then we also look there.
Let's take a look at our second Rabbit in a Hat:
Deriv
Today we will talk with you about the company Deriv. A company with a long and rich history in our industry.
Deriv is a pioneer in online trading. Focused on customer-centric solutions, the company aspires to be the world's leading online trading service provider.

The story of Deriv starts in 1999. Regent Markets Group, the founding company, was established with a mission to make online trading accessible to the masses. The Group has since rebranded and evolved, but its founding mission remains unchanged.
The main regions of presence are Asia, the Middle East, Europe and Latin America. The company's headquarter is located in Cyberjaya, Malaysia.
LinkedIn
Company size 501-1,000 employees (486 on LinkedIn)
Headquarters Cyberjaya, Selangor Darul Ehsan
Founded 1999
The company devotes time to their Linkedin profile, where they publish company news, share new partnerships and hold meetups! It is important that the company publishes its vacancies on LinkedIn and searches for employees through the service. However, the company publishes news no more than once every two weeks, so you should monitor the list of new vacancies yourself on Linkedin.
Glassdoor
Number of reviews 82
Rating on the site 0,0/5,0
It is worth noting that there may have been a bug on Glassdoor website at the time of writing this article. Our team does not know how to explain Deriv's 0 rating in the presence of 82 reviews, each of which is rated.
Recommend to a Friend indicator -
Let's look at a couple of reviews about the company.
The most important of the advantages is that the company is developing at a rapid pace and does not forget to invest money in the development of its employees. This allows us to conclude that the company's HR management is already strong enough and the recruitment processes and support within the team are already stable.

This review can become a reference review, since it not only demonstrates the disadvantages in the company, but also explains them and gives examples.
If we summarize the reviews on Glassdoor, we can conclude that the company is currently at the stage of active growth, so not all processes within the company are ideal (are there ideal processes?).
From our side, we would advise first of all to form a team of experienced advisors who have grown more than one project at the stage of rapid growth and try to avoid mistakes that can be avoided.
In general, we give the company a big like for the development of employees, the ability to choose the location of work, as well as a large benefit list.
Where to look for company vacancies?
The company has a "Career" section on the company's main website https://deriv.com, which leads to a list of vacancies on the site https://deriv.zohorecruit.com/jobs/Careers.
Vacancies are presented only in English. There is a built-in convenient sorting and a process for applying for a vacancy. The entire selection process is transparent and is well described on the Deriv's website.
So who are they looking for?
and 133 more vacancies!
*you can write to us by email ekaterina.ovechkina@finwizard.org so that we can strengthen your resume, introduce you to the employer and prepare for the job interview