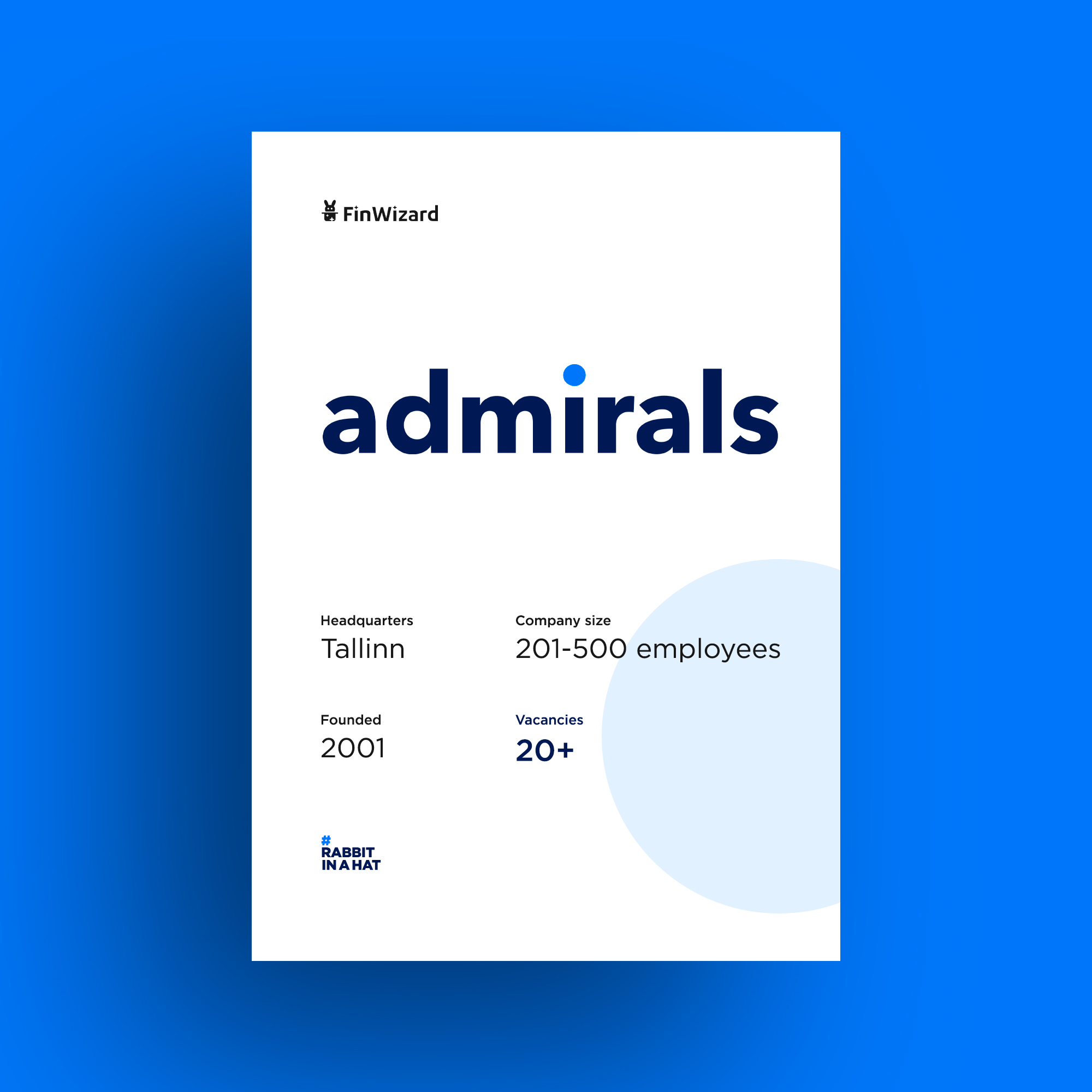 Rabbit in a Hat 🐰🎩: Admirals
By Ekaterina Ovechkina
Hello Friends!
We are gaining momentum with our Forex/CFD industry Employers Reviews. We would like to remind you that this series of articles is not an advertisement or paid promotion. We take information from open sources, talk openly about the pros and cons. Our goal is to create an objective, complete database of interesting reviews of employers working in the Forex/CFD industry. We mainly focus on such sources as LinkedIn and Glassdoor, as they contain a large amount of independent information. If the company operates other social networks, then we also look there.
Let's take a look at our third Rabbit in a Hat:
Admirals
Admiral Markets investment firms operating under the Admiral Markets and Admirals trademarks,is a Financial Hub offering a wide variety of services including investment services for trading with Forex and CFDs on indices, metals, energies, stocks, bonds and digital currencies.

Since the founding of Admirals Group AS in 2001, the company still offers services worldwide through its regulated branches, thereby becoming a true global organization. We are convinced that our presence in various geographical regions allows us to provide customers with services and support wherever they trade.
Admirals has recently started rebranding. This event was widely covered in social networks. Moreover, the company created a separate page on its website, where it told how and why the company rebranded.
On the eve of the 20th anniversary of the company, on March 5, Admiral Markets was renamed Admirals. Over the past two decades Admiral Markets has revolutionised trading and investing, enabling millions of satisfied individuals to structure and manage investments in a safe, secure and simplified way. Back in 2001, Admiral Markets was purely a Forex and CFD brokerage company. Today, it stands for an innovative and streamlined personal finance experience.
LinkedIn
Website https://admiralmarkets.com/
Company size 201-500 employees (534 on LinkedIn)
Headquarters Tallinn, Estonia
Founded 2001
Admirals approaches their social networks very carefully and with great professionalism. It can be seen that managers are engaged in social networks, who devote a lot of time to them. The company talks about its open vacancies, and also describes in detail the team life and all the benefits that its employees receive. For example, you can find out in the posts about 6 sustainable initiatives that have been implemented in the office. In the Linkedin group, all open vacancies are listed in a special window.
Number of employer subscribers: 12,096 followers.
Glassdoor
Number of reviews 56
Rating on the site 4,1/5,0
Recommend to a Friend indicator 79%
Let's look at a couple of reviews about the company.
From the review, it can be understood that the Company is actively developing, but already feels confident enough in industry. Indeed, Admiral Markets is one of the largest brokers in Estonia. The employee talks about working at the Admirals as a "safe haven". Considering the industry, the most successful 2020 in the life of the company and remote work, we cannot disagree.

If you pay attention to the cons, which is described in the review above, then you can notice a frequent tendency to bureaucratization of the company when it grows. Turning an idea into reality in large companies takes much longer than in startups.
Let's take a look at the review with an overall rating of 4 stars.
This is a well-written review, as the employee reasoned out the pros and cons of working in the company. We advise you to follow the link above and read the entire review.
In our opinion, the review repeats our conclusions that it is easy to develop as a specialist and at the same time have the work life balance in a large company, but sometimes there is an internal bureaucracy that slows down the processes.
Summary
If we consider all social networks together, then we can say that Admirals is in the top among the broker employers, since the company has the highest rating on Glassdoor, as well as the talent management of the company is very careful about using LinkedIn. Nevertheless, every company has disadvantages. In the case of Admirals, the company is on a steady plateau of its development, which makes the company rather unwieldy.
Where to look for company vacancies?
The company has a "Career" section on the company's main website https://apply.workable.com/admiralmarkets/. he company uses the Workable platform, so the link leads to an external resource with a list of vacancies.

It is important to mention that the company has a "hybrid workplace policy". Аny employee limited only by the position requirements has the right to work up to 2 or 3 days WFH (work from home) and only the rest of the week in the office. In some regions, even a full-time WFH is possible.
List of open vacancies:
Product Owner
Customer Support Specialist Thailand
And 20 other vacancies!
*you can write to us by email ekaterina.ovechkina@finwizard.org so that we can strengthen your resume, introduce you to the employer and prepare for the job interview