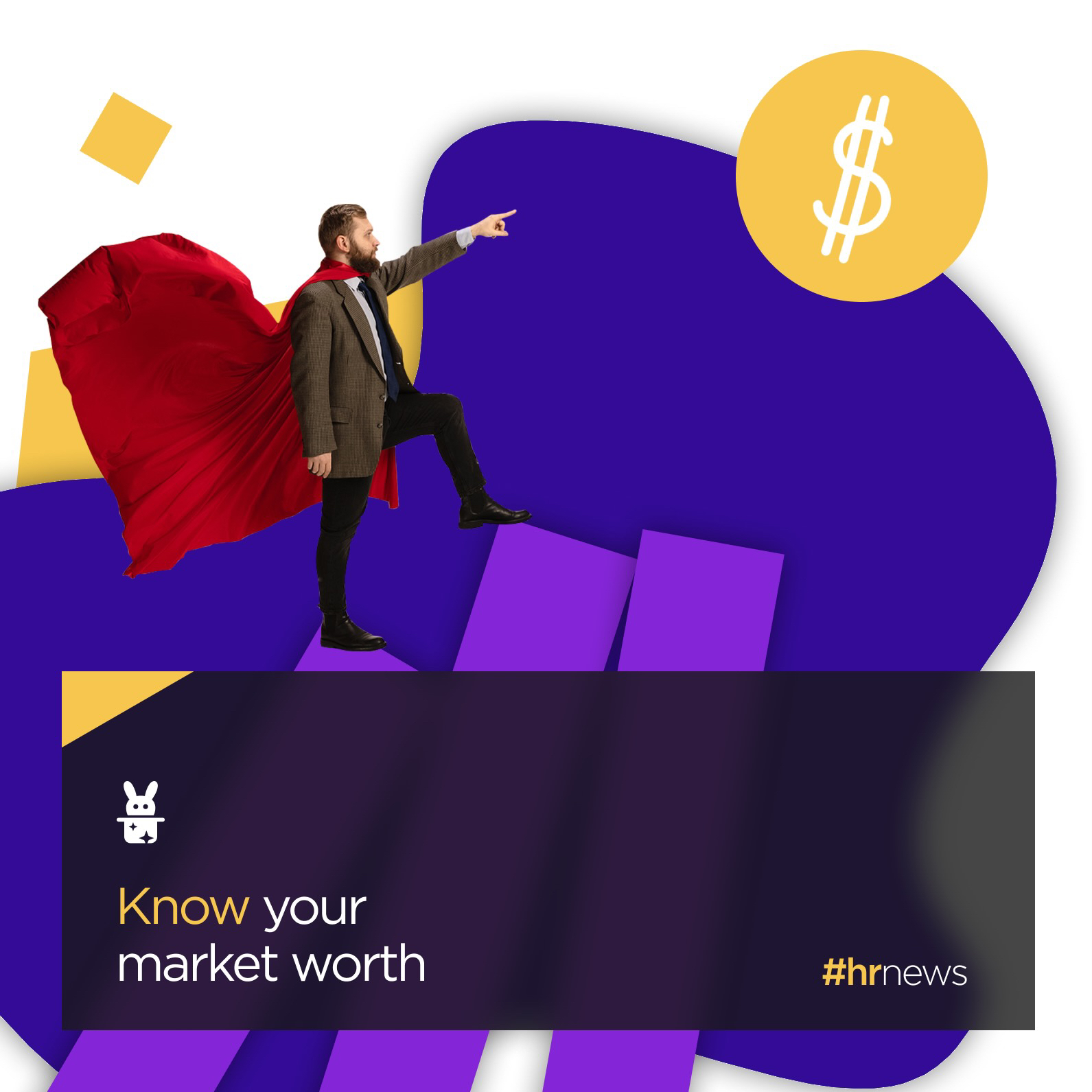 What do you need to know so that the level of income is as close as possible to the market level, as well as your knowledge and experience? How to calculate the salary level you can qualify for?
In January, we received such an email

One of our applicants asked us what amount is better to request as a salary at an interview with HR. And this is an absolutely relevant question, since most of our vacancies on the website do not indicate the salary level. Let's look at why we don't specify the salary level, as well as how to determine your value in the market as a professional.

For most job seekers, it is difficult to answer the question of how much they are worth in the labour market. At first, the candidate, as a rule, does not indicate the expected income in the resume for fear of naming an excessively large amount, since the employer may reject the candidate because of "high salary expectations". Then, at the interview stage, the candidate continues to doubt and does not know what amount of salary to ask for: insist on his own request or agree to the amount offered by HR. As a result, such an applicant can accept a job offer that does not correspond to his knowledge and experience in terms of income, and receive 10-30% less than the market.

The ability to estimate the cost of your work is a necessary skill anytime. Understanding their value in the market is necessary for both candidates who are looking for a job and those who are already employed. There is a misconception that you need to study your price only during periods of job search, but this is not the case. The market is not stagnating, the requirements for positions and the levels of supply and demand are changing. Therefore, it is worth updating information about your cost at least once every six months. In this case, how do you find out the value of your experience and skills in the labour market?

To begin with, it is worth saying that there are already a lot of ready-made calculators that help you calculate your worth on the market. We have compiled a list of examples of such calculators below:
Glassdoor calculator. Free salary calculator based on millions of real salaries.
Payscale. An excellent free calculator that takes into account several options at once: are you currently working, have an offer on hand, or are you just looking at the market and vacancies.Here you can get not only an approximate salary level, but also in the process of filling out the form to learn about all kinds of certifications of your profession. For example, we were given such a list. Did we know about all these certifications? Of course not.

LinkedIn Salary.One of the best free tools to know your salary compensation. The first step, as in many such services, you will need to send your salary data to their database. This helps to fill the database and improve salary analytics. The second step is to add your skills and experience level. After that, you will have access to salary information related to your position.

Robert Half's tool.A great free tool based on the annual analytics of this agency. It is enough to write an email, a role and a location to find out approximate salary analytics. This tool is more suitable for the US and European markets, as this agency cooperates more mainly with these markets.

If so far you still want to dig deeper and look at the factors affecting your salary... then let's go further! In our opinion, it is not enough to know the price, it is important to know the factors, since this knowledge allows you to properly direct resources to their development.
Today we will analyse the main criteria of the "cost" of a specialist in the labour market, point by point.
Already at the first interview, each applicant is faced with the question: what salary would suit you? And in order to name an "honest" amount, any specialist should prepare in advance. It is worth considering that recruiters are deterred by both too low and too high levels of requests: in the first case, they are afraid of insufficient work experience and unprofessionalism, in the second – excessive ambitions and inflated self-esteem of the candidate.
In other words, for successful employment, you need to study analytics, market research in advance and calculate an adequate level of earnings that suits you as a specialist with certain experience and skills.

This is quite easy to do if you take into account some aspects:
Your industry / supply-demand there
Despite your specialty, the industry in which you work plays an important role. We are talking about universal roles that can work in different industries. For example, the salary of a java programmer is 1.7 times more in a fintech company than in an edtech company. Also, it is well known that in the labour market some professions are valued higher than others: the general market law of supply and demand. So, if there are not enough competent IT specialists today, then their work will be paid better. On the contrary, if the CVs are much larger than the vacancies, you should prepare to fight for a good place and salary.
As a rule, every six months top recruitment agencies post an analytical brochure with information about the level of salaries in the industry.
Your location
In the capital and large cities pay more than in small towns. In addition, you need to take into account the country of your job search. The standard of living, as a rule, is the same everywhere, but salaries and prices sometimes differ significantly.

Software Developers Around the world 2021, DAXX
How to calculate an acceptable salary level in your region? You can independently conduct a mini-market research: view job ads on aggregator sites, CVs of colleagues in your specialty in your city.
Your experience
So, the average level of wages in your specialty and in your city is determined. Adjust the resulting average value based on your experience: lower the bar if you are a beginner, and, on the contrary, raise it if you have already become a pro. It is assumed that a good specialist knows something special and has a certain set of skills, knowledge and skills in a narrow area. Here you can find the standard template for CV. Experience with competitors, knowledge of terminology and the necessary programs will be to your advantage.
Do not forget to indicate the availability of communication skills, team work experience, knowledge of corporate processes and methodologies.
Does additional education affect the salary?
Of course, any additional education is good, because it indicates that a person is ready to constantly develop, invest his own time and money in education. When calculating an adequate level of salary, for example, an MBA for executives, although not decisive in employment, can still add you a few points in calculating salaries.
However, it should be borne in mind that the knowledge and skills gained in practice, and not fixed on paper, are more important for the employer.
Certificates, diplomas, etc.
Paradoxically, short-term courses on the most pressing issues of your specialty can have a much greater impact on your salary.
So, for a marketing manager today, a certificate of participation in a seminar on promoting goods and services in social networks can be extremely useful (and significant in terms of salary calculation). For an engineer – a certificate of participation in a specialised conference.For a specialist in personnel records management – a diploma of a participant in a seminar on innovations in labour legislation.
How much does knowledge of a foreign language cost?
According to the generally accepted opinion, knowledge of a foreign language increases the salary. However, this is not entirely true: the employer will pay extra for a brilliant knowledge of the language only when it is really necessary in daily work, for example, in an international company where people from different countries work.
What else has a positive effect on salary?
Knowledge of special computer programs, availability of relevant connections for work, knowledge of related areas and much more.
Summarising the above information, we will schematically present the factors affecting the level of wages.
Ekaterina Ovechkina, FinWizard, 2022
Comprehensively assessing your place in the current coordinate system, you can confidently determine the level of your professionalism and the corresponding level of financial expectations.
And a little advice from us:
In the process of negotiating with the employer, you may have to show loyalty and reduce your requests somewhat. That is why I advise you to indicate in your resume a figure 5-10% higher than your expectations.
P.S. Remember that when looking for a job, it is important to take into account a way of finding a job. For example, if you are looking for a job through Linkedin, then you need to make efforts to improve your LinkedIn account.
Sources
Cooney, S. (2021, April 29). What salary should you ask for? how to figure out your worth. Time. Retrieved April 1, 2022, from https://time.com/5383303/salary-ask-for-market-worth/
Korneeva, E. V., Eremina, I. Y., & Abdulkadyrov, A. S. (2021). Competitive salary as a company efficiency factor. Lecture Notes in Networks and Systems, 487–494. https://doi.org/10.1007/978-3-030-80485-5_57
Quan, J. ("J., Dattero, R., Galup, S. D., & Dhariwal, K. (n.d.). The determinants of Information Technology Wages. Enhancing the Modern Organization through Information Technology Professionals, 32–49. https://doi.org/10.4018/978-1-4666-2648-5.ch003
Sehgal, K., Claman, P., & Knight, R. (2021, August 31). 10 myths about negotiating your first salary. Harvard Business Review. Retrieved April 1, 2022, from https://hbr.org/2017/07/10-myths-about-negotiating-your-first-salary