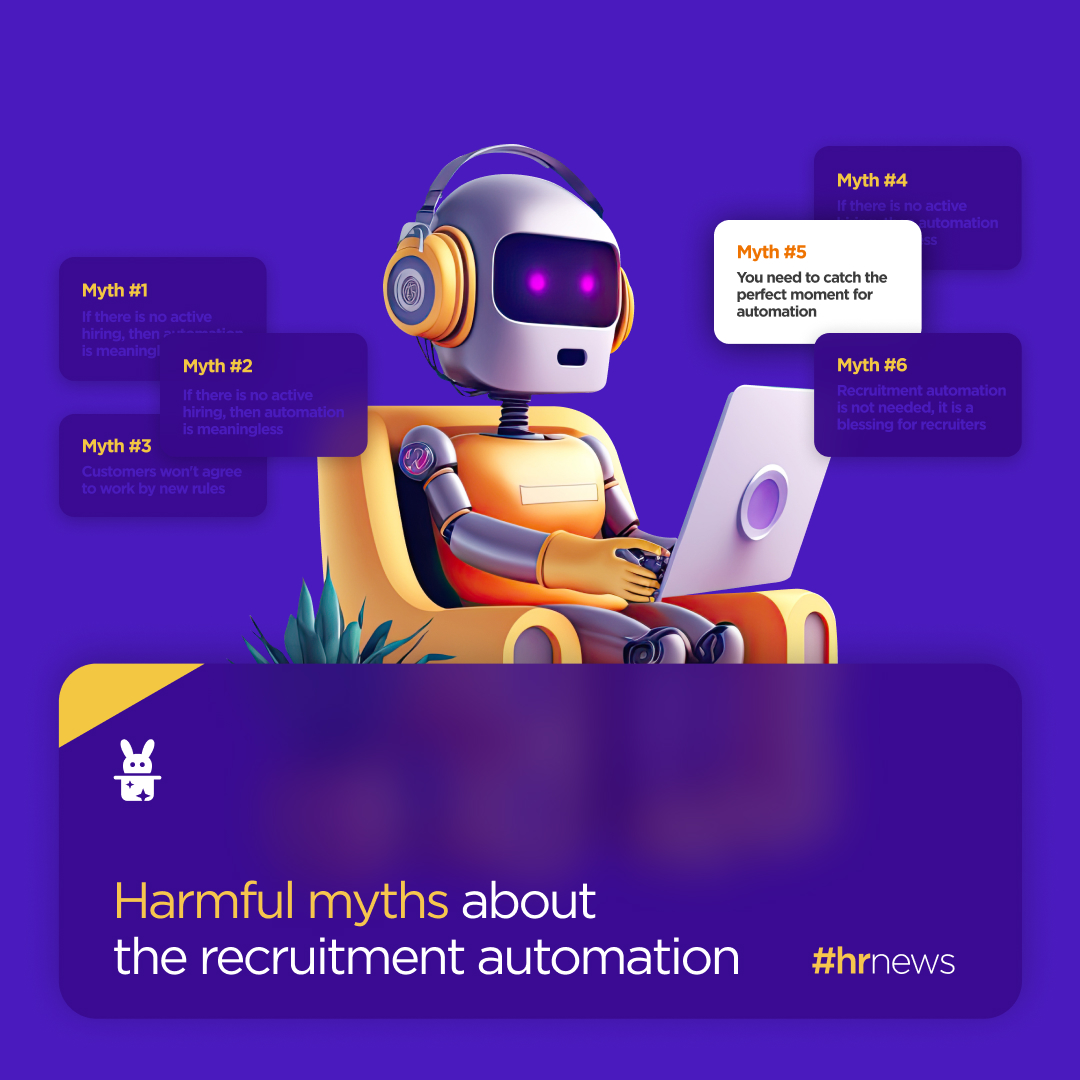 Recruitment automation is a trend in the labor market. However, many companies still recruit in an old-fashioned way, sometimes even just using Microsoft Excell. They often have difficulties with hiring: job offers are not closed, customers are not involved in the selection, and reliable HR analytics are missing. Automation solves these problems. But something is preventing us from making a decision, restructuring, and switching to a controlled, effective, and meaningful selection. It is limiting beliefs that often do not correspond to reality. Today, we will discuss the most harmful myths about recruitment automation and tell you how it really works.
Myth #1: Automation is only needed by large companies
The essence of the misconception is: "Why do we need this? There is only one recruiter in the company, we are still too small for automation. We'll think about how to set it up properly when we grow up." In fact, it doesn't matter what size the company is, the goals and problems of the business do. It's time to get to automation if you need at least one of the following tasks done:
- Hire faster;
- Close positions with higher quality candidates;
- Control the effectiveness of recruiters;
- Involve hiring managers in selection;
- Form and use a resume database;
- Establish transparent hiring processes - for recruiters, businesses and candidates;
- Avoid chaos when scaling recruitment.
What is important: it is easier to automate with small hiring volumes. This way you can initially set up the right processes in a calm atmosphere, without rush and chaos.
Myth #2: If there is no active hiring, then automation is meaningless
The essence of the misconception is: "We don't have active recruitment now, so we'll automate, but later". In fact, it is a perfect time to restructure processes. When active hiring starts and backlogs begin, automation will be less convenient.
Myth #3: You need to catch the perfect moment for automation
The misconception: "We have such a backlog right now that we don't have time for automation. Let's deal with this backlog first and then think about it." This myth is the exact opposite of the previous one. The typical scenario: first the company delays automation due to inactive hiring, then the intensity suddenly increases and there's no time for automation. Recruiters are "on fire" because job offers had to be closed previously, and customers barely have time to participate in interviews and give feedback on candidates. Now you need to figure out new tools, and learn to work by different principles. Maybe it's better to wait a little more. Wrong - most often the backlog is the result of the lack of automation. If the processes were not in manual mode, recruiters would not have to spend time on routine tasks. They could close more job offers in less time. Therefore, without automation, the company risks never dispelling this backlog - it will only grow. It's like someone who is ill refusing to take medicine because they don't feel well and "it's not the time for it".
Myth #4: Recruitment automation is not needed, it is a blessing for recruiters
The misconception: "We only have problems because recruiters are doing a bad job. They are lazy and do nothing - no automation will help. Why should we spend money to make life easier for these slackers? We already pay them a salary." Sometimes such arguments come from the company managers when they are asked for a budget for automation. In fact, you need the automation not for the fact recruiters can rest whole days while the system is doing its work. Automation gives access to analytics, and therefore it is primarily needed for business. If management thinks that the recruitment team is performing poorly, analytics will allow them to check this hypothesis and eliminate the issue. With its help, the manager can assess the effectiveness of each recruiter, set and monitor KPIs, and see the causes of a certain problem. In reality, there may be a million reasons for difficulties in recruitment: salary isn't market compatible, customers dragging out the verification of candidates, weak HR brand, and too many stages of selection. It is analytics that allows you to get to the bottom of the matter, and find and eliminate the real issues instead of drowning in illusions.


Myth #5: Automation won't solve the problem of closing vacancies
The misconception: "What does speed of closing job offers have to do with it? If we can't find a senior developer, how will automation help? Are you going to bring us candidates yourselves?" Most often companies strive for automation for the sake of convenience. If it's hard to write letters, try using pre-made templates. If it's hard to add resumes manually there is an opportunity to do this in one click. If it's hard to assemble the history of interaction with candidates - why not store it in a common database? However, the true value of automation is not convenience, but the ability to close more job offers in less time. The majority do not understand how a recruitment system can help find employees faster. Indeed, automation is not a magic pill. It won't make candidates line up for your offers. But with its help, it is possible to digitize recruitment and see its narrow spots where relevant candidates are stuck or lost.

Myth #6: Customers won't agree to work by new rules
The misconception: "This is all cool, of course. But we have specific customers who don't want to change anything and won't work with a new CRM system. We've already been through this, and we find it all useless." Indeed, for some customers, the transition to a new system may be stressful. But in the end, it all boils down to answering the question: "What are we doing this for? Why are we giving up the familiar and convenient system and going into the unknown? Just because the recruiters wanted it? What will our business get out of it?". If you manage to explain how worthy that is to customers, they will accept the changes. Customers want their job offers to be closed faster. If automation allows specific business needs to be met, it is perceived as a common good, not some fancy thing for a recruitment team. The hardest thing is to overcome initial resistance and involve the business in the changed processes. If difficulties arise at this stage, you can start with the most loyal customers who are ready to try something new. These people will become ambassadors of the changes: following their example other hiring managers might see the benefit and start working in the new system.
The list of the best automation recruitment tools
1. GEM Platform: talent engagement platform that was designed to help recruiters increase efficiency and accuracy in their recruitment processes. They provide data-driven insights and automation tools to help build a diverse, high-quality talent pool while ensuring a successful hiring process regardless of the scale.
2. Hireology: an all-in-one recruiting, hiring, and employee management platform that empowers decentralized businesses to build their best teams. The company equips HR and business leaders with the support and tools needed to manage the full employee lifecycle — from pre- to post-hire — in one seamless platform. With focused expertise across several industries — including retail automotive, healthcare, professional and consumer services, and hospitality — more than 7,500 businesses rely on Hireology for their hiring, HR, and payroll needs, putting people at the center of their organizations.
3. JobDiva: a global leader in Platform as a Service (PaaS) technology for staffing enterprises, incorporating a patent-protected recruiting engine and supported by a full suite of advanced features to drive the hiring process from first engagement to hire and onboarding, along with a partner ecosystem of 150+ integrations. JobDiva has 40,000+ users globally. JobDiva helps organizations find talent faster, engage with greater ease and achieve commanding growth.
4. Sense: the only all-in-one business communication and engagement solution for modern recruiting companies to accelerate their growth. Sense's automated communication and engagement technology powers the next generation of great recruiting teams. From 2-way texting for recruiters to NPS; from redeployment to candidate engagement; Sense is the only all-in-one solution built for recruiting. Sense turbocharges recruiting, marketing, and contractor care teams to dramatically improve the candidate experience, lower contractor attrition, and increase retention.
5. Lever: Lever is an AI-driven recruiting platform that helps with sourcing, screening, interviewing, hiring, and onboarding candidates. It integrates with applicant tracking systems (ATS) and other HR systems.