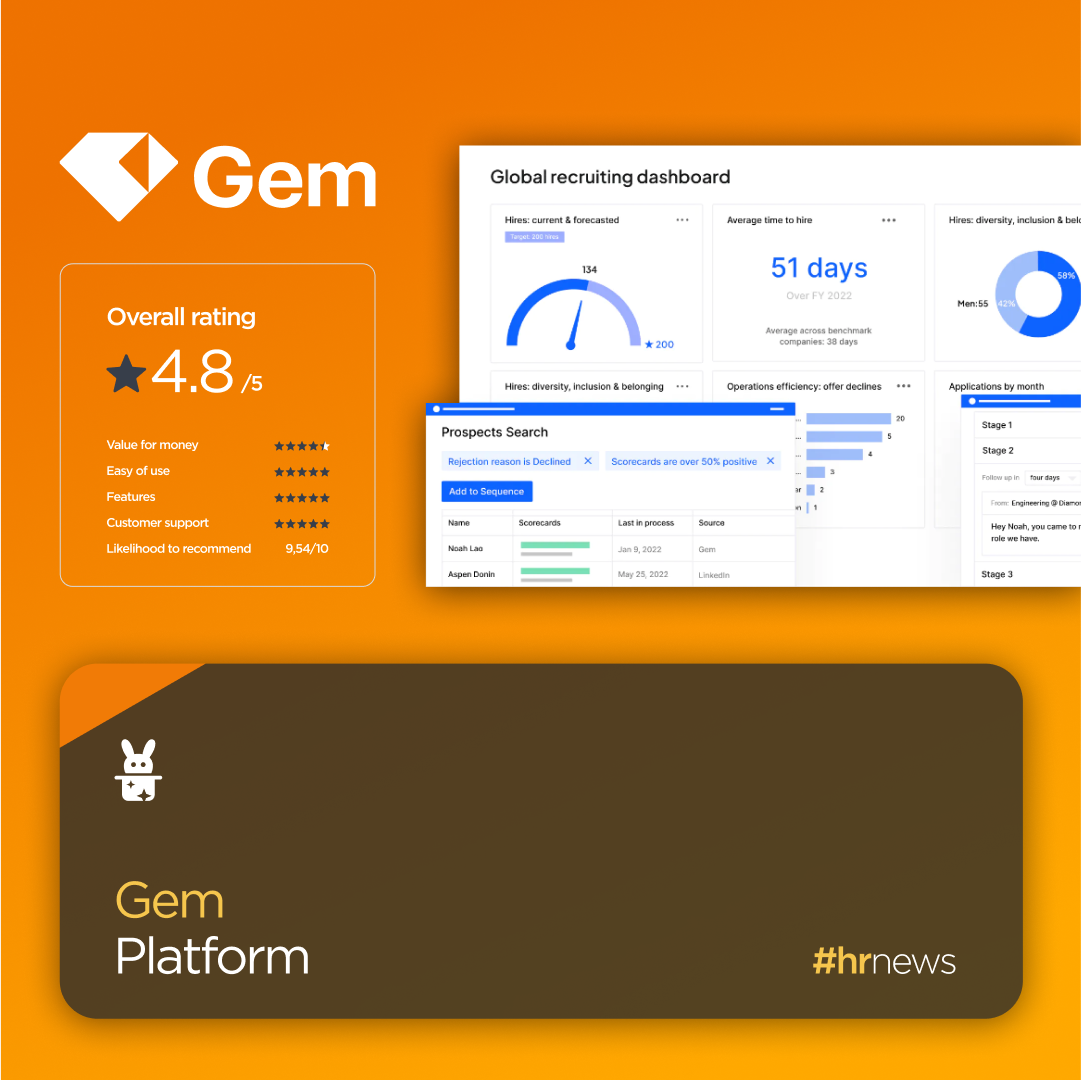 GEM platform
A few articles ago, we began to consider the voluminous topic of the advantages of companies in the process of hiring employees. We examined the difficulties companies face when hiring IT employees. We have identified the problems that all IT recruiters are currently facing: most specialists in this field are passive candidates who are not actively seeking employment.
Finding the right IT employees for your business is always a daunting task. With the help of new tools, recruiters can now quickly and efficiently hire IT professionals to help businesses reach their goals. These tools provide access to a wide range of candidates from different backgrounds and experience levels. They also offer features such as automated screening, skills testing, and job matching to make sure that you find the best fit for your organization. Furthermore, these tools allow you to track progress throughout the hiring process so that you can make adjustments if necessary. With these new tools, hiring IT employees is now easier than ever before.
Let's look at the platform today, which definitely deserves our attention as a vivid example of global thinking, a modern method of analysis, and an effective way to respond to market needs.
Let's talk about GEM platform:
Talent Engagement Platform that was designed to help recruiters increase efficiency and accuracy in their recruitment processes. They provide data-driven insights and automation tools to help build a diverse, high-quality talent pool while ensuring a successful hiring process regardless of the scale.
History
When co-founders Steve Bartel and Nick Bushak were working as engineering managers at Dropbox and Facebook, both companies were looking to rapidly hire and expand.
However, there was not an effective way to track passive talent relationships before talent was ready to apply... and the best people already had jobs. Therefore, engineers, hiring managers, and recruiters built spreadsheets to keep track of the best of the best. These were their "Gems."
Steve and Nick knew that managing and nurturing relationships with top talent was soon going to require more than a spreadsheet. It was going to require software—built specifically for recruiters—that could automate tasks, track touchpoints, show pipeline views, and offer analytics for forecasting hires. They recognized recruiting teams deserved more than the piecemeal tools they currently had. That recognition was where Gem was born.
Overview
The Gem platform is a powerful tool that allows businesses to strategically engage and manage their employees. This platform helps employers track, measure, and reward employees in a fast, efficient and cost-effective way. It enables employers to assess employee performance in real-time, reward them for their hard work and create better engagement among their remote and in-house workforce. In this article, we will discuss the features of this revolutionary platform, and how it can help businesses provide a more efficient, engaged and rewarding work environment for their employees.
Gem unifies data and context from the tools recruiters use every day, including email, applicant tracking systems, LinkedIn, and other social networks, to create a source of truth for all talent relationships. Armed with insights about the entire recruiting process, automation to reach out to talent at scale, and true cross-functional collaboration tools, TA teams can proactively and strategically plan for what is ahead. Gem's customers are well-informed recruiting teams from industry-leading companies — like Dropbox, Grammarly, Doordash, Cisco, Mcdonald's — who understand that hiring the best talent in the market is key to maintaining their competitive advantage.
GEM has four principles:
Customer-centricity - they talk to customers to decide what to build and drive the most value.
Transparency - transparency by default, so everyone can make the best decisions.
Velocity - GEM moves fast, they are scrappy, and they take calculated risks to keep up with the transforming industry.
Diversity- diverse perspectives lead to better outcomes. GEM values it in both their culture and product.
Gem's mission is to help recruiting teams use data and automation to build better relationships with talent. Over 1200 companies around the globe and across industries use Gem to transform the way they recruit and hire. Powered by a Talent CRM, Gem's Talent Engagement Platform drives talent discovery and outreach, pipeline management, and full-funnel data insights so companies can choose more diverse, high-quality candidates.
Gem optimises end-to-end workflows so recruiters can cruise through inbound applications, collaborate efficiently with hiring managers, and build lasting relationships with candidates.
Why is it so popular?
The answer is simple: Gem has AI heart.

The business case for AI in HR is becoming increasingly evident, as evidenced by the research of N Guenole and S Feinzig in their 2018 publication, With Insights and Tips on Getting Started. AI has the potential to revolutionize HR by reducing the time spent on mundane tasks, allowing employees to focus on more meaningful work. AI can also be used to automate the hiring process, reduce bias in the selection process, and identify the best talent for a given job. Moreover, AI can be used to increase the accuracy of employee performance evaluations by providing more objective feedback on job performance. AI is also being used to improve employee engagement by providing personalized feedback and recommendations to employees. Finally, AI can be used to identify potential areas of improvement within HR departments, such as increasing efficiency and reducing costs. In conclusion, AI has the potential to revolutionize HR by streamlining mundane tasks, improving employee performance evaluations, and increasing employee engagement.
Recruiters' reviews of the GEM platform
GEM's advantages:
It's got a ton of features, great integrations
​​Gem is super user friendly and intuitive
Very easy to get onboarded and comfortable with it
Quality of support
GEM's cons:
They are still early in their lifecycles so sometimes things can break
Complex tool
Too many emails from this soft
Regarding GEM competitors, the world is developing so fast that it would be native to talk about the lack of competition. This area is one of the promising areas of the modern world. At the same time, we note that GEM has received more nominations in 2022, which indicates an excellent start, as well as an incredible desire to become the best in this field.
Conclusion
Gem allows you to find, engage, and nurture top talent wherever you source. It also allows for easy tracking of all candidates and their real-time process. It is a concisely and clean software to use to accurately track each candidate within each role for your company.
And by tradition, a little advice from myself:
Spare no time and effort to find interesting start-ups that meet your desires and needs. They now contain the freedom of a new generation, which pushes all the boundaries of the past and gives an advantage over the accumulated experience. Keep in touch with interesting people; it is easier and more valuable than ever at the same time.